Thanks to numerous years of tireless patient advocacy for diabetics, the continuous glucose monitoring system, Dexcom G5, is now available for reimbursement by Medicare for a select group of patients over the age of 65 with type 1 and type 2 diabetes who receive daily intensive insulin therapy. Recognized by the FDA as durable medical equipment, these therapeutic Continuous Glucose Monitoring (CGM) devices are now being covered by the umbrella of Medicare Part B benefits.
The only FDA approved continuous glucose monitoring device approved as a suitable replacement for other home glucose monitoring tools, the Dexcom G5 is classified as a therapeutic device capable of assisting diabetic patients in their ability not only to monitor their volatile blood glucose levels, but to adjust the course of treatment and insulin dosage as directed to by their doctor's protocol – making the device convenient and reassuring for diabetics dealing with untraditional cases of the condition.
Effective March 24, 2017, the FDA approved device, deemed medically necessary by doctors for certain patients, will be available through a claims process for reimbursement. The therapeutic continuous glucose monitoring device offers will be available to Medicare recipients who once were unable to afford the monitoring tool who are in true need of the life-saving benefits the device provides.
In an effort to simplify the process, the manufacturer, Dexcom, provides a contact form on their website for patients who may be eligible for the reimbursement and need assistance in acquiring the continuous glucose monitoring device. Claims filed on or after January 12, 2017 are eligible for the reimbursement claim.
In order to meet the criteria for eligibility, diabetics must have:
a documented diagnosis of either type 1 or type 2 diabetes
currently be utilizing a home blood glucose monitor
consistently performing a minimum of four finger pricks daily
be dependent on insulin in the form of injections or by insulin pump
must have a need for adaptive fluctuations of their insulin treatment plan as deemed necessary by a continuous glucose monitoring device.
More inclusive, making it possible for both type 1 and type 2 diabetics to have their CGM device reimbursed, the Medicare reimbursement program boasts a level of superiority over competing private insurance companies that limit coverage for CGM devices to patients with type 1 diabetes.
Eligibility for reimbursement of this product allows diabetic patients with difficult to control cases of type 1 and type 2 diabetes to effectively control their blood sugar while achieving a higher quality of life – drastically reducing the frequency of finger pricks necessary for determining insulin dosing for the management of the disease and the maintenance of optimal blood glucose levels.
The approval of Medicare reimbursement for the Dexcom G5 is a decision that can help better the lives of those living with diabetes. It can help cut back on time spent in the hospital, emergency room visits, complications, and even a better chance at more affordable life insurance for diabetics, and more.
Summary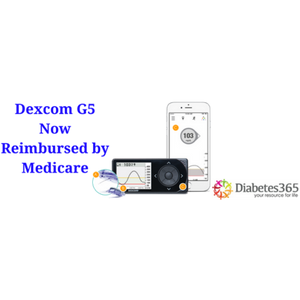 Article Name
Dexcom G5 CGM is Now Reimbursable by Medicare
Description
Dexcom has recently announced that its Dexcom G5 CGM system will be reimbursed by Medicare. This is great news for the diabetes community. Learn more here.
Author
Publisher Name
Publisher Logo