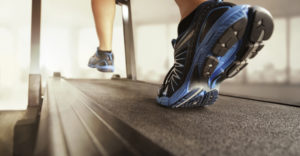 While a treadmill can cost you a pretty penny the right one can be worth the investment. Finding a treadmill that meets your needs while providing the ergonomics and an excellent design will make sure you find the treadmill that will help you as you work towards maintaining your health! Individuals with diabetes can find that walking on a treadmill can provide a tremendous health benefit! Read about 8 tips for running with diabetes and helpful information to find you the perfect treadmill match.
Think about what you need from your treadmill!
Are you a walker? Runner? Training for a race? Looking for a model that provides the best entertainment features to avoid boredom during your workout? Or are you just trying to better your overall health to keep your diabetes at bay and make you less at risk for higher life insurance plans? Whatever your reason may be, they all center around living a better healthy active living lifestyle.
Treadmill Benefits for Diabetics
Individuals with diabetes are considered a high-risk applicant primarily because their condition could ultimately turn into some serious health issues. Insurance companies see red flags when they come across an applicant with diabetes. They see the potential for kidney disease, heart attacks, stroke –all conditions that could be fatal and a huge investment risk for them. However recent studies have come out indicating that life insurance rates are more accessible for diabetics now than ever because of all of the preventative health measures out there. Including taking proactive choices like getting a treadmill to walk or run on. If you're overweight or obese and at risk for developing diabetes, one of the best things you can do is to get active and shed some pounds. The calorie-burning benefits of running are well worth the effort of putting one foot in front of the other; regular exercise can reduce cardiovascular risk factors, accelerate weight loss efforts, improve body composition, improve insulin sensitivity, and even improve blood glucose control. Check out Robin Azron and her tips for running as a diabetic.
What is the treadmill capable in terms of speed and incline?
Often times you will find a treadmill will have a top speed between 10 and 12 miles per hour. Inclines usually max out around 10 to 15 percent incline. Whether you are a walker or a runner, treadmills have plenty of speeds and inclines to meet the exact needs you are looking for. Start at a slow walk, with a minimal incline and work your way up. Find the speed and incline that best fits for you!
Continuous Horsepower
Make sure you are looking at the treadmills continuous horse power (CHP) this will give you the most accurate indicator of motor capacity. Keep in mind that workout intensity and user weight will increase CHP demand. Walking will require 2 CGO, jogging 2.5 CHP, and running requires around 3 CHP.
Belt Surface Area
Walkers will want a belt around 55 x 20 inches. Runners 60 x 20 inches or more. If more than one individual will be using the treadmill opt for the longer measurement – this will better accommodate everyone's exercise style.
Mobility
If you don't have a dedicated home gym the ability to move your treadmill around is definitely something to consider. Look for models with wheels and hydraulics to make folding and moving the machine much easier. There are a lot
Additional Features like Fitness Programming
There is a plethora of additional features to consider when looking at treadmills. Health metric displays will often include heart rate, mileage, pace, and calories burned during exercise on the machine. Check out how response the touch screen is to ensure easy use. Preloaded workout options are helpful for those looking to keep their workouts fresh. It allows you to break away from them mundane activity of running at nothing and gives you the opportunity to run through a trail in the Alps or on the sandy beaches of California. It gives you something to look forward to when you go for a run…ask yourself, "Where do I want to run to today?"Additionally, models can also include outlets for AUX and USB input while others offer Wi-Fi connection. It's really about what extra features suit your preference.
Recommended Brands
For Walkers: ProForm 505 CST
For Runners: Form Pro 2000
For Training: Horizon T9
Best for Extra Features: NordicTrack C 2950