Staying healthy requires physical activity. But not everyone is a natural fitness enthusiast. Sometimes the idea of going for a run or hitting the gym feels intimidating and maybe even a little scary. If you're not used to working out, don't fret! Trying anything new always feels uncomfortable.
Just know that physical activity keeps you healthy and—even better—helps you feel good! Our bodies were made to be mobile. Still, if the idea of venturing into the world of physical fitness has you feeling spooked, start out slow and easy. And bring a friend or a spouse along for motivation and a little companionship.
Get ready to become a friend of fitness, because, yes, you can do this!
Making the change to adopt fitness into your life will be better than you think.
Get on the path to good health with a few easy fitness routines that anyone can do (just be sure to check with your doctor to discuss which fitness option is best for you and your health)
Running
No, this isn't about marathon miles (unless, you want to train for a marathon). Running is great cardio, and it gets the heart and blood pumping. Don't try to push yourself in the beginning, though. New runners should begin slowly…and wear a good pair of running shoes.
Be sure to stretch before hitting the pavement to prep muscles. You can alternate between walking and jogging, or jogging and running or walking and a full-run. Do what feels comfortable. Aim for running around the block on the first day. Nothing huge, nothing too intense. Slowly over time, you can increase your distance and speed.
Walking
If running is a little too intimidating, go for a walk. My exercise regimen always includes walking. Now I love hiking, as my body has acclimated to more intense terrains. Go for a walk around your neighborhood or head to a local park that features a paved path. Grab a few friends and make a morning of it!
You also can enlist your favorite fur-baby to accompany you on those walks, too!
Gardening
Yes, gardening may be a beneficial exercise. Anything that gets you up, outdoors and moving muscles is good for your body…even on a basic level.
When you work in the garden, your digging, carrying bags of soil, pulling weeds and trimming plants. Being around the green of nature also awakens the senses; it makes us happy…what's not to love about that?
For extra health benefits, turn your garden into a herb and veggie powerhouse! Cultivate tomatoes, cucumbers, green beans, basil…whatever your taste buds love! Growing our own foods encourages us to eat those foods. There's nothing quite as tasty—or satisfying—as eating fresh veggies that you've raised from the heart!
Also, homegrown produce makes great gifts for neighbors!
Yoga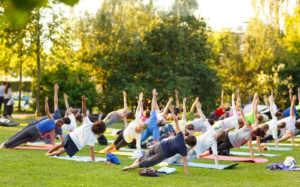 There are different forms of yoga, so you may need to research which types interest you. The benefits of yoga are numerous, though, and include increased flexibility and muscle strength. Yoga also helps relieve stress. You may take yoga classes in a professional studio, outdoors or even online.
No matter how you choose to get active, adopt a fitness routine to enhance your health. While workouts seem intimidating, they shouldn't be. Fitness should be fun…you just need to discover what you love. Everyone has their fitness niche, and you will discover what works for you. Just make sure you don't overdo any activities…and be sure to talk to your doctor before adopting a fitness routine (your doctor may have their own suggestions!).
*Uma Campbell is a yoga instructor and freelance writer. She currently lives in Southern California. She enjoys writing about meditation, natural medicine, and home design. Her interests include home decor, yoga, and running.
Summary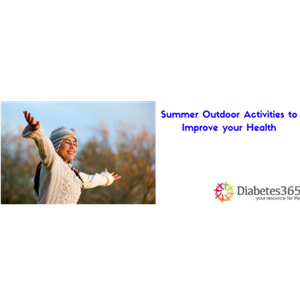 Article Name
Summer Outdoor Activities to Improve your Health
Description
The beautiful summer weather is a great opportunity to get outdoors and get healthy. Check out these summer outdoor activities to improve your health.
Author
Publisher Name
Publisher Logo