The passing of a loved one is not a subject that the majority of people like to spend much time talking about. Loss is an unsettling feeling and spending too much time contemplating it can be downright depressing.
As undesirable a feeling it is, talking about loss, and having preparations in place to alleviate the financial burden of loss when it inevitably occurs, is necessary. To the surprise of many, deciding to purchase life insurance as a diabetic has the potential to relieve a lot of the anxiety and dread that surrounds concerns regarding what a family is to do after the potential loss of a loved one – especially if the loved one happened to be the primary financial contributor to the household's ability to thrive.
Paired with the negative feelings that accompany such a difficult conversation, the process of applying for and purchasing life insurance can seem overwhelming at first. Life insurance premium horror stories and fear of disapproval leave many to forfeit any attempt at securing a policy without even inquiring about options.
Fortunately, with the assistance of a life insurance agent that understands the value of family and the peace of mind that families are looking for in their life insurance policy, the process can become much easier. Below are our tips to approach such a delicate – yet important – conversation with your loved one.
1. Choose the Right Timing
Discussing death isn't something that you can leisurely transition into talking about at any given time or in any random location. It is important to consider timing when you are planning to discuss such a sensitive topic with your loved one. Choosing a time when you are both available, relaxed, and free from distractions is ideal.
2. Be Gentle in Your Approach
Understand that your loved one may not be immediately receptive to having a conversation about yours or their passing. It's uncomfortable territory. If this happens to be the case, verbally validate their feelings. Explain to your loved one that while you can empathize that this topic isn't one either of you want to dwell on, you want to ensure that in the event that one of you passes, the other (and the rest of the family) will be provided for. There is nothing worse than having a loved one pass and facing financial hardship in a time of mourning and transition.
3. Research Policy Options
It is important to decide what the specific needs of your family are, and what they will be in the event that you or your loved one passes. This will give you both an idea of what sort of coverage or plan you'd like to apply for. Make sure that you have a basic understanding of the different types of policies, such as term life, whole life, guaranteed universal life, etc.
4. Decide How to Budget for Monthly Premiums
There are a wide variety of affordable insurance policies designed to accommodate people from all circumstances. That being said, you must take into consideration your current health. Do you have chronic health concerns? How old are you? Do you smoke? All of these factors will play a role in determining your life insurance premium, and if you are considered to be a risk of liability, your premium will reflect it. It is important to discuss how your family will budget accordingly.
5. Understand the Importance of Time
The truth of the matter is, we have no way of knowing when we will pass. Age is simply a number. The longer we wait to have such an important conversation, the more we put our families at risk of not being taken care of in the event of an untimely passing. Have the conversation as soon as possible. You will feel content in knowing that you've put a plan into place to take care of your family should the need arise.
Summary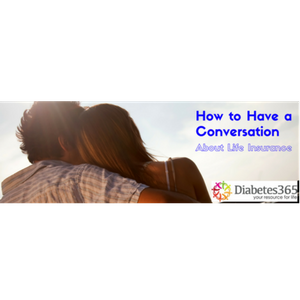 Article Name
How to Have the Conversation No One Wants to Have [Diabetic Life Insurance]
Description
Preparing to have the conversation that no one wants to have can be difficult. Here are a few ways to bring the topic of obtaining diabetic life insurance.
Author
Publisher Name
Publisher Logo